10 Reasons to Book a Destin Offshore Fishing Charter
Destin's fantastic offshore fishing opportunities are unquestionable, but what some people wonder about is the worth of joining fishing charters. What can you get from booking a Destin offshore fishing charter, and why?
Read on as we show you the top ten reasons!
Fish to the Extremes!
Destin is the World's Luckiest Fishing Village, where you can take your offshore fishing adventures to the next level. There are numerous fish to catch when in the deep waters, from huge snappers to fighting sharks! It will never be a dull day when offshore in Destin waters.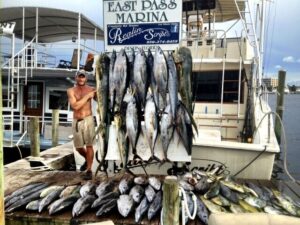 No Need to Handle the Boat
What can be boring (and quite tedious) is handling a boat yourself when you aren't familiar with the location. For those new to Destin or only traveling for vacation, you will most likely depend on maps, advice from locals, background knowledge, among other fishfinder devices, to locate your target fish. Sure, this is fine, but you take so much more time and effort finding fish and maneuvering a boat that you end up doing those things rather than fishing.
And no fisherman wants to end up being a pilot the entire day when all that time could've been spent catching the big one!
When you join an offshore fishing charter, the licensed captain and professional crew will take care of everything for you. They're well-knowledgeable of the Destin waters and know where to go, so all you need to do is prepare yourself for aggressive fish. You also won't have to worry about getting lost and missing out on many opportunities.
Learn a Lot During the Trip
Whether you're a beginner angler or have been fishing for some time now, there's always room for learning new things. You've got an entire crew out there helping you when you're not sure what to do to catch fish.
From recommending baits to teaching fishing techniques, the crew will be glad to help you with your quest to catch big game fish in the deep Destin waters. You can even learn more tricks of the trade and experiment with new techniques from the professionals. Remember, the captain and crew have been fishing in Destin for years!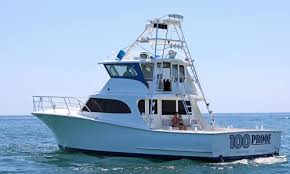 No Need for Equipment
Yes, you read that right. A fishing charter will most likely have fishing equipment ready for you to use.
Of course, you can still bring your own equipment if you're more comfortable using it. But if you're a beginner angler without equipment yet or don't want to pay extra for lugging all your fishing equipment (especially if you're flying), then this is a convenient and cost-effective option.
Relax and Enjoy
A fishing charter has a captain and crew who can control the boat and take you to the hot fishing spots to catch your target species. They can teach you how to fish and show you new techniques for higher chances of success. Moreover, you won't need to worry about fishing equipment, as they've got that covered, along with safety training and equipment.
Basically, you won't have to worry about anything else. Just make sure you bring sunscreen, extra clothes, and maybe some food (though some fishing charters also offer snacks). Also, don't forget to bring your A-game because you'll be facing tough fish in Destin.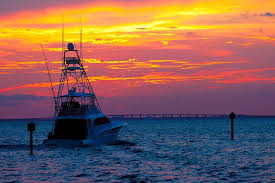 Experience New Things
Fishing is all about new adventures and experiences, especially when you go offshore, not knowing what to expect! In Destin, you'll get to encounter a smorgasbord of fish species. You'll also need to change up your bait and rods, making each fishing trip a unique one filled with new lessons.
Offshore fishing charters will give you the opportunity to explore the offshore with more confidence, with the crew guiding you through the new territories for a positive experience.
Save Money
Yes, you can also save money from hiring or joining an offshore fishing charter! You save because you won't have to bring equipment, nor will you need to hassle yourself with boat rentals when you have a professional crew and your preferred boat for the trip. Imagine the extra money you would have to spend when renting a private boat (and having to maneuver it yourself or pay extra for a captain).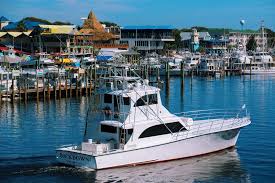 No Need to Pay for a License
You most likely won't need to invest in a fishing license, as the captain's license will suffice. The captain can avail of fishing charter licenses so those onboard can catch a certain amount of fish species.
There are Tons of Fishing Charters in Destin
Destin has so many different fishing charters because of how popular the sport is. You won't have difficulty searching for an offshore fishing charter made for your trip. However, we recommend booking in advance, especially during more popular fishing seasons, as slots fill up.
What's great about the plethora of fishing charter options is that you'll find a charter that caters to your individual needs. You can join a charter to be with other anglers to mingle with or a private one for your family and friends. You can also cheese a charter that uses a boat you prefer or with specific facilities for comfort.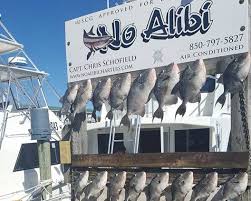 You're Safe with Professionals
If bad weather suddenly occurs while you're on the boat or something potentially dangerous happens, don't worry. The captain and crew are trained for all situations and prioritize everyone's safety. They'll do all they can to keep their clients safe the entire time, using their expertise and safety training.
Wrapping It Up
Offshore fishing in Destin has its advantages, and with a fishing charter, you can have the ultimate experience!
Do you believe it's time to book a Destin offshore fishing charter? With all the benefits you can reap, it's high time you do so now before your trip! If you'd like to avail of fishing charter services, feel free to contact us now, and let's discuss your options and our services and prices.
Book Your Fishing Charter