Deep Sea Fishing Near Destin Beaches
Destin is the World's Luckiest Fishing Village because of the abundance of fishing opportunities there, from the fish species down to fishing environments. This is a bold but well-earned name the city has set on itself, and you can only expect the best when you're out on the waters.
Many inshore and nearshore fishing holes range from Destin Harbor down to the bayou-ringed edges of Choctawhatchee Bay. You can also go surf fishing along the beachfront of the Gulf of Mexico. But if you're out there looking to catch monster fish and the big one, then you'll want to go deep sea fishing near Destin beaches. Some of the state's best big-game angling opportunities await in Destin, and you've got fishing charters ready to help you catch them.
This article will tackle deep sea fishing near Destin beaches, so continue reading!
Why Go Deep Sea Fishing Near Destin Beaches?
Destin is one of the top jumping-off points for getting to the deep waters quickly along the Florida Panhandle. This is a 100-fathom curve where continental shelves plunge to the deep, and it's merely 25 miles south of Destin's waterfront.
Moreover, Destin offers easy access to DeSoto Canyon, a 3,000-feet-deep defile cutting into the shelves. It channels cold waters from the Gulf depths towards Florida Panhandle. This gives many anglers a lot to fish for!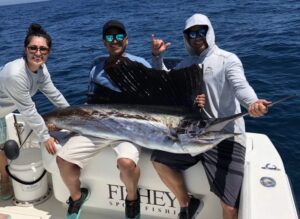 What You Can Catch
From redfish, speckled trout, and tarpon, to king mackerel, Destin's inshore and nearshore waters have a ton of fishing opportunities. Your options will only widen as you head to deeper waters.
Besides being called the World's Luckiest Fishing Village, Destin held the historical nickname of the "Billfish Capital of the Gulf." Why? This is because Sailfish would flash through the depths, along with hulking swordfish, which you can target through deep-drop fishing.
You can also find white marlin and the legendary Atlantic blue marlin. The blue marlin is a prized catch that can weigh over 1,000 pounds when caught in the Panhandle. These fish strike suddenly and fight hard, surging out of swells that will become a memory you will forever brag about to others. There isn't anything that compared to the fight of reeling in big marlin at the other end of the fishing line.
There are also other species you can catch, such as blackfin and yellowfin tuna, along with swift wahoo and dolphinfish, also known as dorado or mahi-mahi. You can even catch a few sharks, like hammerheads, bull sharks, and lightning-fast makos. Makos are the rare equivalent of marlin in terms of strength, fight, and spectacle.
When you are around reefs and wrecks, you can bottom-fish for snappers, grouper, amberjack, and a whole lot more.
Destin's Offshore Fishing Season
You won't run out of fish to catch any time of the year. In fact, it would be difficult NOT finding species to fish for in the open Gulf! That said, the main timetable for recreational deep-sea fishing is from spring to fall. If you're aiming for Marlin, then you'll want to head to Destin during the summer.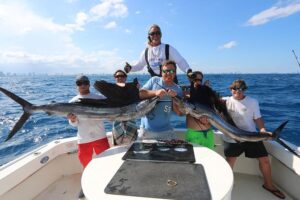 Fishing Methods Used
Two of the most common techniques used for deep fishing are bottom fishing and trolling. When you are bottom fishing, you can use natural bait like squid or jigs.
If you plan to go trolling, you can use natural baits like cigar minnows. Alternatively, you can rig your fishing lines with a skirted plug. You can check out current Destin reports seeing what techniques work well for local anglers at the moment. You may also contact us and other fishing charter captains to learn more about today's more effective techniques.
One last tip: Before you go deep sea fishing near Destin beaches on a charter, make sure you check that the fishing guide or charter captain has a fishing charter license covering you. If not, then you will have to purchase a saltwater fishing license before the trip. Don't worry, these licenses are easy to obtain and affordable.
Besides fishing licenses, you and your charter captain must be knowledgeable about the current state fishing rules and regulations. That way, you are aware of the fishing seasons, bag limits, size limits, and what fish can be kept or must be released. Also, remember that if you fish beyond three miles beyond the Atlantic side or nine miles beyond the Gulf side, you may have to consider federal recreational fishing regulations.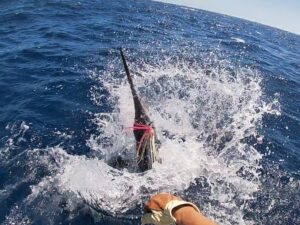 Joining a Fishing Charter
If you're hankering to go deep sea fishing near Destin beaches, then you'll want to join fishing charters to take you out to the blue waters. Fishing charters are a suitable choice for anglers because you have a fishing charter captain and guide navigating the waters and teaching the ropes on how to catch the big one. Moreover, the fishing gear and equipment are included in the package.
When you're considering what fishing charter to join when deep sea fishing near Destin, here are the top three to look into:
Private Charter Fishing – This is the best option if you want a personalized experience with the charter captain and crew completely tending to your and your group's needs.
Shared Fishing – This charter trip would have 8-25 passengers onboard, with the catch shared equally between all participants. This is a suitable option if you are on a tighter budget and are comfortable being with other people.
Party or Walk-On Fishing – This is best suited for beginners who want to fish the gulf of Mexico. This trip can accommodate up to 65 anglers, and while it's cheaper, it also means not being able to receive a customized experience or the full attention from the captain or crew.
Wrapping It Up
We hope you gained more insight about deep sea fishing near Destin beaches! If you would like to learn more about booking a fishing charter for your next offshore adventure or join a charter already, contact us now! We've got the services any angler desires for an enjoyable time out on the deep Destin waters.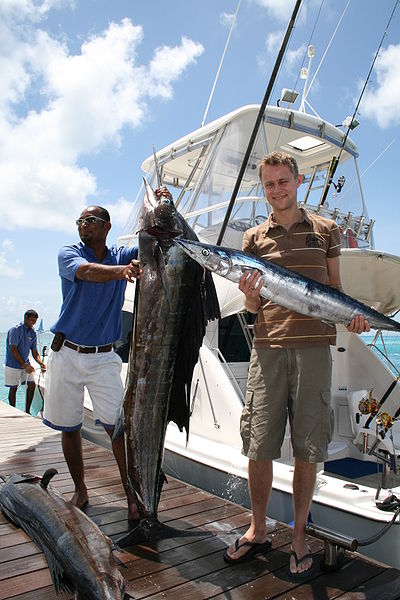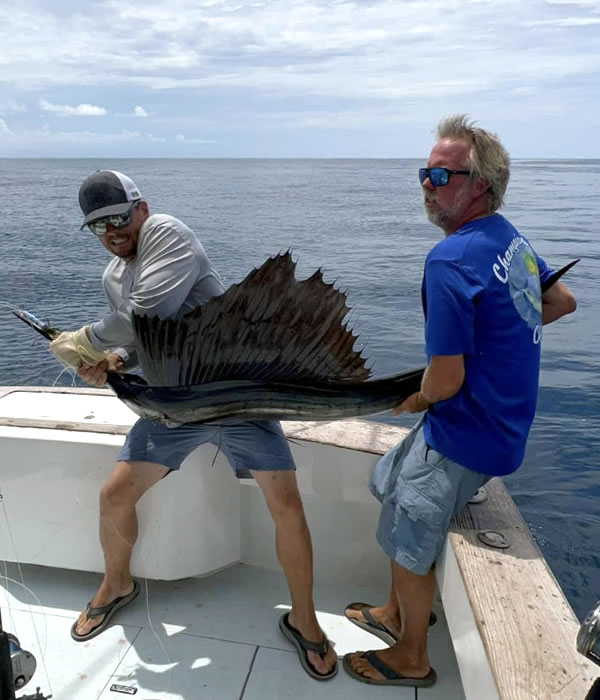 Book Your Fishing Charter