Destin Fishing Season for Inshore Fish
Destin is an amazing destination to visit for beach fun and fishing action no matter the time of year. But admittedly, some specific times and seasons are better than others. If you're planning to go to Destin for inshore fishing, you first need to know when it's best to go based on the target fish you'd like to catch.
That said, read on as we talk about the Destin fishing season for inshore fish, whether you're planning to catch tarpon, speckled trout, mackerel, and more!
Destin Fishing Season for Inshore Fish
Destin is one of the top vacation destinations in the US and one of the state's top fisheries. And if you've always wanted to have fun under the sun and catch some fish, going inshore is the way to go, especially if you're a beginner, with family, or have a shorter amount of time to spend that day.
But it's not just about knowing what fish to catch and where to go. It's also about when! Numerous factors can make or break a fishing trip, including the weather and season.
The best time to fish in Destin is come summer season, from late May to early November. The offseason would generally fall from January to March.
However, you have to consider the fish you want to catch. For instance, you can find reef-dwelling Cobia beginning to peal in March, but they start dwindling in May. Whereas the red snapper comes in season from May to July, then comes back in September to October.
What Fish to Catch
Two of the most common species to catch are the Cobia and Tarpon. If you want to get either of these two fish, here are the seasons to catch them in: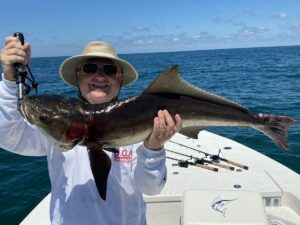 Cobia
Cobia is one of the most sought-after fish in Destin, where anglers can find an abundant number of these species! You'll find them around buoys, pilings, wrecks, or in the bays. These fish have two peak seasons, with one being in April and the other from September to October.
We highly recommend catching Cobia during the spring season because Destin holds their Cobia World Championship, Hog's Breath Café Annual Cobia Shootout, and HarborWalk Marina Annual Cobia Tournament during this season.
Speckled Trout
You can find speckled trout during the spring season as they would prepare to spawn. That's what makes March to May one of the best times to catch monster trout. The biggest trout will head to spawning grounds, with all the activity making them hungry and aggressive.
You can also try to target speckled trout come fall season, between September to November. When things start to cool, trout will move back to shallow backwaters ahead of winter, trying to eat every opportunity they get.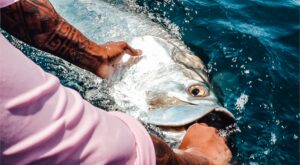 Tarpon
Tarpon is a prehistoric fish and is now a staple in Destin's fishing world. For inshore fish, they can put up quite a fight and are a fun catch. Tarpon is usually more accessible and ready to catch during their spawning season from May to August.
You're best off catching tarpon during Destin's summer season, as they can instantly go from 0 to 100!
Snook
Snook are another popular fish species anglers put on their bucket list because of their size and aggressiveness. You can usually find them in flats and channels, measuring over a foot long, sometimes three feet long come summer. As such, you can target snook come summertime and get the best opportunities then.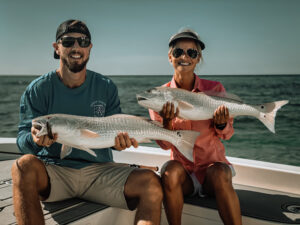 Redfish and Flounder
Redfish and flounder are also red-hot come fall season, particularly from September to November. Flounders will fire on all cylinders in inshore waters, getting ready to head back offshore for spawning.
We recommend the fall season to get huge bull redfish as they will move to the shallow inshore waters. You'll find the biggest reds feeding near bays, piers, and jetties with ridiculous action during these times.
While you can still find redfish or trout come winter, they aren't as active. You can find sheepshead and black drum even during the cooler waters.
When to Book a Destin Inshore Fishing Charter
You can go inshore fishing on your own, but nothing beats joining a charter or hiring a guide who can lead you to the surefire places to catch your targeted species. They even include fishing equipment and fantastic advice from the skilled crew, so you have more chances of reeling in fish.
If you haven't booked an inshore fishing charter or guide yet, we recommend doing so as soon as possible, booking a date between May and September. This is when fishing is at its peak, almost guaranteeing a successful trip. However, these dates come with a few caveats unrelated to the fish you'll catch.
For starters, many fishing charters are usually booked during summer, especially in the weeks leading up to it. If you can book months ahead to secure a slot, we recommend doing so. Moreover, you may have to deal with more people around Destin and the fishing charter, which may be a dealbreaker. That said, you can always hire private fishing charters for more privacy.
Also, you may want to consider fishing during the winter season, which is still an incredible fishing opportunity. While the temperatures are milder, the water temperatures remain relatively warm. And even if the Gulf waters are a bit unpredictable, the Choctawhatchee Bay is accessible with fishing opportunities.
Wrapping It Up
You can fish in Destin all year long and expect great catches, but we recommend inshore fishing from May to November. But of course, there are other factors to consider, such as the fishing trip you plan on going on, the target species you'd like to catch, and the specific body of water you'll want to fish in.
Are you interested in going inshore fishing in Destin? If so, contact us now, and we can help you find the best fishing charters and guides in the area!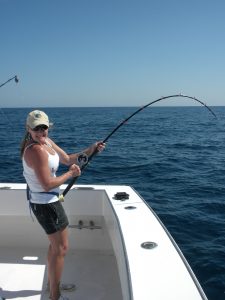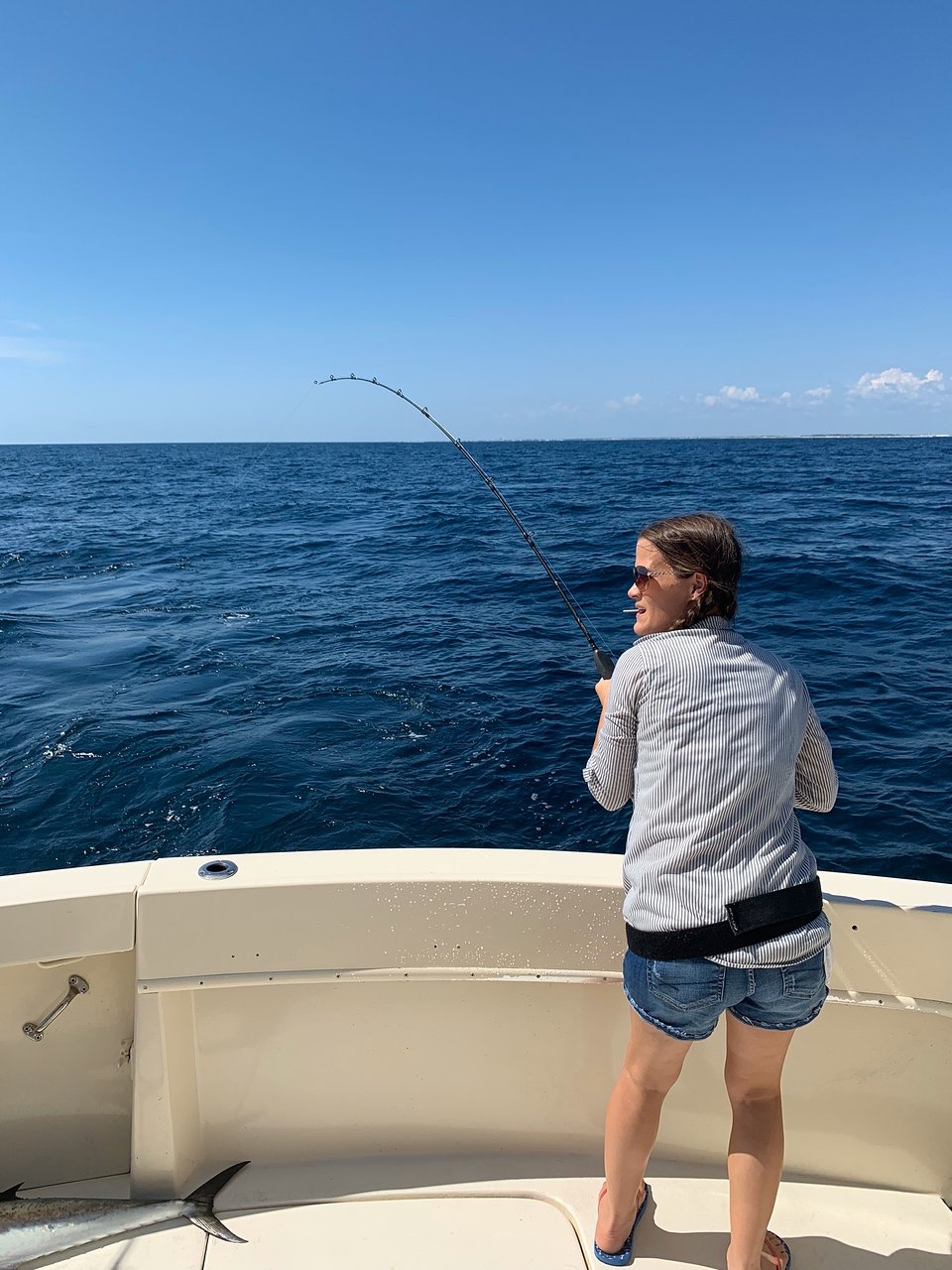 Book Your Fishing Charter