10 Reasons to Book Destin Inshore Fishing Charters
Destin is a huge fishing spot for anglers, and for great reasons! You can catch monster fish offshore or enjoy the many species you can easily catch when inshore. While you can go on a solo fishing trip, many people opt to join fishing charters or hire private charters for their enjoyment.
If you're planning to book Destin inshore fishing charters, you're probably still asking yourself, "is it really worth the price?" We're here to tell you that YES, it is!
Read on as we share the ten reasons to book Destin inshore fishing charters!
10 Reasons to Book Destin Inshore Fishing Charters
If you're still hesitant about joining or hiring fishing charters, here are ten reasons why they are worth the price!
The Gear is Included
Fishing charters provide all the necessary fishing equipment for a successful trip. They'll already prepare the required fishing bait and gear depending on the waters you'll go fishing in.
So, you've got the rods, reels, bait, safety equipment, fish finder, GPS devices, coolers, and ice. The only thing you need to do is show up with sun protection, extra clothes, food and drinks, and your phone to document the experience.
Receive Professional Guidance
Even first-timers are welcome to fishing charters; there is no skill requirement! The crew members are there to guide you through catching your first fish or help expert anglers reel in monster fish.
Those who lead fishing charters are captains who are also professional anglers with years of knowledge, training, and experience. They know the waters better than you, knowing it like the back of their hands! Not only can you learn about where to fish in Destin and how to detect fish, but valuable fishing tips.
Once you head home, you're more knowledgeable about how to catch various fish species, what gear is best to use, and more.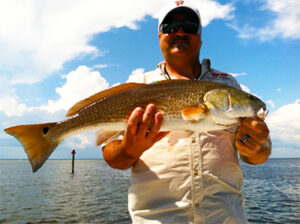 They'll Find Fish for You
Charter captains are aware of the best place to catch fish in Destin because of their experience. They also have sophisticated equipment to find schools of fish, so you won't need to worry about coming home empty-handed.
You also won't have to worry about getting lost or finding your way to the best fishing spots yourself. Instead of concentrating more on where to go, fishing charters allow you to focus more on actually fishing.
Fishing Charters Know About Fishing Regulations
As mentioned, fishing charters already have a fishing license, so you won't have to acquire one yourself, saving money and time. Furthermore, the captain and crew are well-knowledgeable about Destin's specific fishing rules and regulations.
While it's essential to read up on these rules and regulations yourself, you won't have to worry about breaking any rules as crew members will gently inform you of bagging limits and restrictions.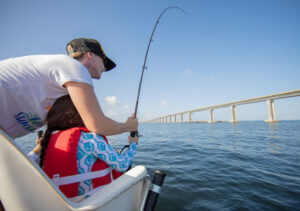 Learn New Things
Even if you're an experienced angler, you'll learn a lot of new things about fishing in Destin, whether it's from the captain, crew members, or other joiners. You can learn new techniques or swap fishing tips, which you can use for your next trips to Destin and other areas.
Most people onboard have been fishing for a long time so you can learn a thing or two from their knowledge and experience.
Have More Chances of Catching Fish
Have you ever gone out to the waters yourself only to return without a single fish? It happens to everyone and is a frustrating experience!
Professional crew members will be guiding you throughout the trip, teaching you what techniques work and helping you reel in the big one! Their goal is to make your fishing trip memorable and to have you catch at least a few fish.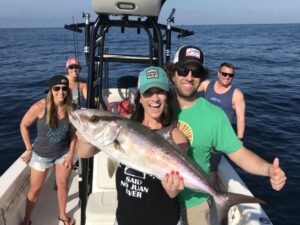 Spend The Day with Friends and Family
Whether you have a friend who's new to fishing or children you want to introduce the sport too, fishing charters are a great way to introduce it. The majority of the trip will be taken care of by the captain and crew, so you and your group will concentrate more on the joys of fishing.
Plus, it's a fun and unique way to spend a whole day with your loved ones without much stress!
Meet New Friends
If you plan on joining a fishing charter, you will be with other anglers and people who want to try their hand at fishing. Some people may find it a disadvantage but being with other people gives you a chance to create connections! Make new friends and learn a thing or two about fishing as you exchange tips.
But if you want more privacy, you can always hire private fishing charters with your family, where you can get personalized services.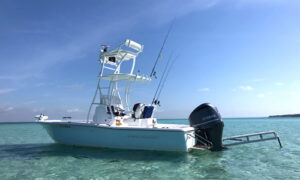 You'll Relax More
Handling a fishing trip yourself is stressful as you'll face challenging situations like navigating the waters or catching fighting fish. When you join fishing charters, you'll have professionals on board who can handle these situations.
That means the only thing you need to focus on is relaxing as you wait for a bite! The captain and crew are there to keep you safe and offer all the fun you expect from a fishing trip.
Be Pampered
This is especially when you hire private fishing charters! You won't have to take care of the boat and the supplies you'll need. Instead, the captain and crew will take care of everything and be of service whenever you need it. In fact, some charters can include extras, like meals or other personalized services.
Wrapping It Up
While inshore fishing charters may incur extra costs during your trip, it doesn't beat the savings you'll make with your finances, time, and effort. That's why you can find numerous Destin fishing charters offering their services in the area.
Based on our list above, are you encouraged to book Destin inshore fishing charters? If so, do contact us now, and we can discuss the services we can offer based on your needs!
Book Your Fishing Charter