Why Book a Fishing Charter in Destin, Florida?
Many anglers know that Destin is the fishing destination to be in. Destin, Florida, is deemed the World's Luckiest Fishing Village for a reason!
When you're planning your trip to the area, you're probably given a choice to either book a fishing charter or go solo. It must have you wonder: Why book a charter in Destin, Florida?
Read on to learn all about the reasons why booking a fishing charter for your Destin fishing trip is worth it!
Why Book a Charter in Destin, Florida?
Chartered fishing trips are one of the best ways to enjoy your day on the water. It's a suitable activity for children to seniors who want to learn more about fishing or are out to catch the big one.
But why book a charter in Destin, Florida, exactly? Here are a few reasons why!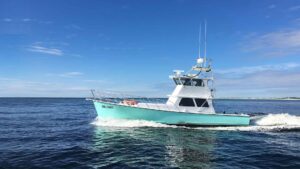 It's Actually Cheaper
You may have been considering renting your own fishing boat and going on your own trip. It would save on manpower and equipment, won't it?
However, you'll need to think about any extra fees renting a boat will have, such as insurance, fishing licenses, fuel, and the like. There's also running the risk of damaging the boat, incurring even more costly fees.
And let's not talk about owning your own boat in Destin! All these will add up quickly, especially if you don't plan on going fishing as often, from the maintenance to insurance, your own fishing equipment, and storage fees.
Rather than renting or purchasing your own boat, you can hire fishing charter services, which already have everything you need. Fishing charters already have a professional crew, their own equipment, and even fishing licenses, so you won't have to hassle yourself in getting one.
Of course, you may need your own fishing license and learn the regulations, depending on the targeted species. And some anglers may want to use their own equipment. However, charter services still save you more time and money in the long run.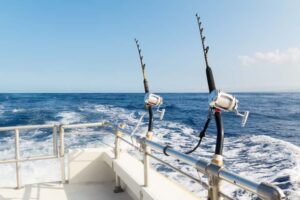 More Fun Without the Work
One of the top reasons people enjoy fishing charters is that they won't have to worry about the maintenance or maneuvering of the boat when it's fishing time.
When chartering a boat in Destin, they can focus more on having fun and catching fish instead of preparing all the equipment and the boat itself. Nor will they have to worry about the navigation or cleaning after themselves once they're back onshore.
As long as you book a trip with a licensed captain and crew, you just need to focus on relaxing, catching your targeted fish species, and enjoying your time on the waters.
If you plan on owning a boat, you'll need to spend a ton of time maintaining your boat. Even something as simple as washing the boat's exterior after a fishing trip will take a lot of time.
It's not something everyone will want to do after spending the entire day maneuvering the boat and navigating the water! While owners can hire someone to do the maintenance and repairs, it just adds to the overall cost.
With a fishing charter, just show up on time, and you get a clean and fully-fueled fishing boat that's ready to go! Professional captains and crews ensure that the boat is prepared and safe to board.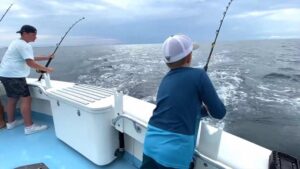 Flexible and Lots of Opportunities
When you hire a fishing charter, you have endless options! You get to choose what type of boat to hire, how long you'll be out in the waters, and where to go based on your target species. However, you might be limited to the places to fish in if you're only joining a group.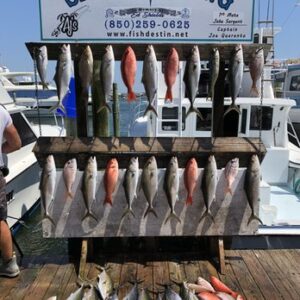 Get the Full Fishing Experience
Professional captains and crews from fishing charters will gladly assist you whenever needed, taking you to the best fishing spots where you can surely get a catch or two. If you're not familiar with setting up your fishing equipment, one of the crew members can teach you how and show you new fishing techniques for a better chance of catching more fish.
You won't only get everything you need in fishing charters, but you'll almost always get a sure catch to bring home, thanks to the new fishing skills you learned.
Of course, there are things to consider when you're planning on getting a charter in Destin. Here is what you should think about:
Fishing charters are highly beneficial, but if you plan on joining a shared tour with other people, you won't have the same level of spontaneity as going on your own. You can't go anywhere and stay for long, as the itinerary will depend on the captain and crew. However, if you hire a private fishing charter, you'll have more freedom in where to go based on the species you'd like to catch.
Some people complain of not getting their ideal boat with fishing charters. That said, you can request the boat of your choice! If you book early, you have a better chance at riding the boat you want for the ultimate fishing experience.
Some experienced anglers actually love the responsibility that comes with maneuvering a boat. So if you're a veteran angler who knows and loves handling boats, then you'll more likely enjoy the freedom of renting a boat to go out on your own or with friends, enjoying more of the freedom.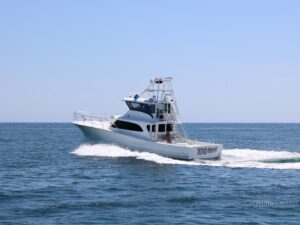 Wrapping It Up
There are many reasons why you must book a fishing charter when visiting Destin, Florida! You get to enjoy the waters guided by professional locals who are happy to teach you and your group all about fishing techniques and how to catch your target species. Whether you're a beginner or veteran angler, you'll surely learn something new and bring a few fish home to show off.
Hopefully, we answered your question, "why book a charter in Destin, Florida?" If you're interested in hiring fishing charters for your next day out in Destin, feel free to contact us and learn what we can offer!
Book Your Fishing Charter