Destin Florida Fishing Regulations
Destin, Florida, is home to so many fantastic fishing spots to enjoy. Whether you want a calm trip to learn how to catch fish or a deep-sea fishing adventure to get the big one, you'll find the perfect fishing situation for you here.
But wait! Before you head out to the waters, you need to prepare. Not only will you need gear, extra clothes, and maybe a fishing charter to help you out, but you'll also greatly benefit from learning about the fishing regulations in Destin, Florida.
So, what's there to know about Florida's fishing rules? Read on to find out!
The Fishing Regulations in Destin, Florida
Here are the things to know about when it comes to Destin's fishing regulations: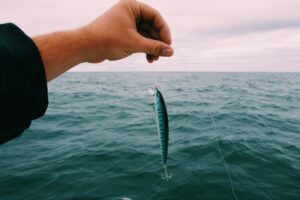 The Methods to Catch Fish
You can only get gamefish in freshwater bodies using a pole and line or rod and reel. As for nongame fish, there are restrictions though the regulations are a bit lenient.
For such species, you can use a rod and reel, pole and line, as well as a bush hook, setline, or trotline. Nongame fish can also be caught by gigs or bow and arrow at night, and during the day, you can catch them via gigs, snatch hooks, crossbow, manually operated spears, or bow and arrow.
Freshwater Fishing Limits
One of the ways the Florida Fish and Wildlife Conservation Commission helps manage the state's fish resources and the population is by limiting the number of fish caught per angler.
Florida freshwater fishing limits govern statewide bag and length for specific areas and species. For instance, these are the number of fish you can catch in a day:
5 black bass
20 panfish
25 crappie
20 striped, white, or sunshine bass
2 butterfly peacock bass
25 American eels
10 freshwater mussels
No sturgeon can be taken in Florida unless you have federal or state authorization or permits. There may also be particular freshwater fishing limits in certain lakes you need to learn about.
In addition, these are the prohibited methods for catching fish:
Spearguns
Explosives
Poison and other chemicals
Free-floating and unattached devices
Note that anglers cannot have over two days' worth of bag limit of freshwater gamefish. While anglers cannot transport freshwater game fish out of the state, licensed anglers can transport the two days' bag limit. You are also not allowed to fillet fish, remote their head and tail fins unless you're done fishing for the day.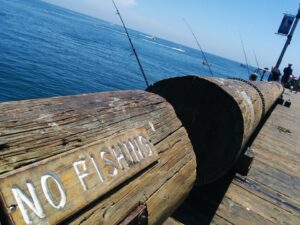 About Fishing Licenses
You might be wondering if you'll need a fishing license when in Destin. You don't need one when fishing on a charter as the captain has a license. However, if you're fishing on your own, you'll need a license for freshwater and saltwater fishing.
Those under 16 years old or over 65 years old don't need one. Neither do the following:
Those who fish during the License-Free fishing day
Fishing from licensed piers or for-hire vessels with charter licenses
Disabled persons who have a Florida Resident Disabled Person Fishing License
Military personnel from Florida visiting their home for less than 03 days
Florida residents who have a free Shoreline Fishing License
Individuals only observe other licensed anglers fish without helping 
There are two kinds of fishing licenses:
Saltwater fishing licenses cover the harvest of saltwater species living in bodies of water such as the Gulf of Mexico.
Freshwater fishing licenses are for species living in freshwater areas such as ponds, rivers, and lakes.
If you are fishing in brackish waters, this is a combination of salt and freshwater. You ma reel in either saltwater or freshwater fish here. So if you will fish in brackish waters like bays or bayous, we recommend getting both kinds of licenses.
You must get a fishing license and bring it proof to the Coast Guard to avoid any possible issues.
Visit the Florida Fish and Wildlife Conservation Commission's webpage to purchase your license. Alternatively, you can buy it in your local Walmart or tackle shop. Here are the costs:
Florida Residents can avail of a 12-month saltwater fishing license for $17 and a 5-year saltwater fishing license for $79. There is also 12-month saltwater and freshwater fishing license for $32.50.
Non-Florida Residents can avail themselves of a 3-Day saltwater or freshwater fishing license for $17, a 7-day saltwater or freshwater fishing license for $30, and a 12-month saltwater or freshwater fishing license for $47.
Note that these prices do not include any special permits or licenses such as those required when harvesting snook, spicy lobster, tarpons, and the like.
Simply renew your license in the places mentioned above at the same costs, and if your license has become lost or stolen, you can get a replacement for $2. If you fish without a license, you will need to pay the cost of the license and penalty fees, which start at $50 and will increase from there!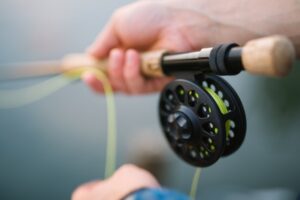 What Kinds of Fishing Techniques Require a License?
In many situations, you will need to obtain a fishing license. And even if you're hiring a fishing charter, it's encouraged to get one to protect fish populations!
These are the kinds of fishing techniques that require a license:
Casting
Fishing from the shore (like the Emerald Coast Shoreline) and Destin Jetties
Fishing from the pier
Crabbing, shrimping and catching shellfish (which also have restrictions)
Fishing from a privately-owned vessel
Fishing from pontoon rentals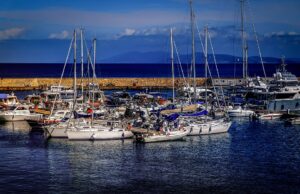 Wrapping It Up
While fishing charters and the crew are aware of the fishing regulations in Destin, Florida, it's still good to learn about them. That way, you won't risk breaking any rules that can affect your fishing license or incur any penalties.
We hope that this article on the fishing regulations in Destin, Florida helped you out! Now that you're more aware of what rules to follow in the area, check out our fishing charter services and blog to know about the fish you can catch.
Book Your Fishing Charter