The Ultimate Destin Travel Guide
From the sandy beaches down to fresh seafood, there's always a reason to head to Destin for a much-needed vacation. It's one of the most beautiful cities in the state with so many things to do, there will always be something for everyone of any age and personality. Whether you're a family with children, a group of friends, a couple, or even going solo, you'll find Destin a fun and exciting place to be.
If it's your first time heading to Destin, the options of where to go, stay, eat, and what to do can be overwhelming. That's why we created this Destin travel guide to help you out.
The Ultimate Destin Travel Guide
Florida's Panhandle beaches are one of the best in the state, starting as a sleepy fishing village and growing into the busy city it is today. It's a tourist mecca complete with luxury resorts, tourist attractions, delicious restaurants, museums, and an active charter fishing fleet!
What's there to do in Destin, you ask? We divide our Destin travel guide into different categories, so you know where to begin your planning.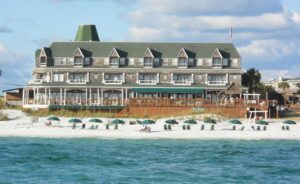 Where to Stay in Destin
Here are a few of the famous accommodations to stay in:
Henderson Park Inn – This is perfect for couples as it's the city's most romantic lodging. It's an adults-only inn with charming décor, featuring spacious rooms, private verandas, and fireplaces to set the mood!
Sandestin Golf and Beach Resort – This is the city's most popular family resort and a vacationer's dream hotel, coming with everything you need for relaxation. Plus, it features one of the best golf courses in the region! You are minutes away from the beach and you may never want to leave, with over a dozen swimming pools, tennis courses, and a small village of shops and restaurants.
Jetty East Condominium Resort – If you're on a budget, you can stay at this condominium resort, where you can save on meal costs. You have spacious rooms with what you need for a long-term stay, as well as fun amenities like a heated pool, hot tub, tennis courts, and more.
Fun Activities to Do
Once you have settled in your accommodation, it's time to start going around and doing a ton of fun activities, like:
Beach activities – You can ask the reception of your accommodation to set up beach activities for you, such as parasailing, surfing, beach volleyball, kayaking, scuba diving, swimming, and more!
Hiking – Head to the state parks, where you can enjoy the views as you walk in one of the many hiking trails.
Golf – Destin's greens rank as one of the finest in the state. There are dozens of golf courses in the city to satisfy any golfer, such as the Sandestin Golf and Beach Resort, Emerald Bay Golf Club, and Indian Bayou Golf and Country Club.
Fishing – You can't visit Destin without experiencing a fishing trip! The city is called "The World's Luckiest Fishing Village," after all. Destin has the largest fleet of fishing charters, so make sure to join one and experience reeling in a catch!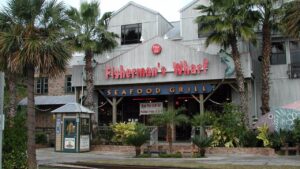 Where to Eat
There is a smorgasbord of amazing restaurants to eat in, like:
Fisherman's Wharf Seafood House – This is one of the best restaurants offering the freshest and tastiest seafood, perfect for the entire family. It overlooks the Destin Harbor, so expect amazing scenery here.
Marina Café – If you're up for high-end dining or celebrating a special event with your partner, Marina Café is the place to be. It's the city's premiere upscale restaurant that overlooks the Destin Harbor, serving up fine dining.
AJ's Seafood and Oyster Bar – This is a waterfront icon open since 1984, a must-try after soaking up the sun. They also have one of the happiest hours with many specials to offer!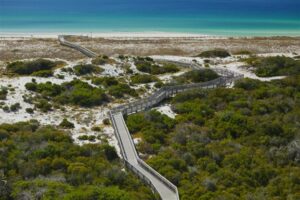 Amazing Tourist Attractions to Visit
There are many tourist attractions to visit in Destin to learn more about the city's history and culture, such as:
Air Force Armament Museum
Heritage Park and Cultural Center
Emerald Coast Science Center
Destin History & Fishing Museum
HarborWalk Village
Henderson Beach State Park
Shore at Crustal Beach Public Access Park
Norriego Point
The Best Time to Go
Usually, travelers would time their visit based on the weather. In Destin, expect the temperatures to be in the upper 70s to low 80s from April to May and October. It will be mid-to-high 80s with high humidity from June to September. Come winter, you can the weather would be in the low 60s.
When you will go to Destin depends on the weather you want, with many families preferring to head to the beaches during spring, summer, and fall breaks. Fall is one of the best times to visit, as the crowds have lessened but the weather is still warm enough. You can also base your arrival on the fishing seasons and seasonal events Destin has to offer, which you can find here!
How to Go to Destin
Your way of visiting Destin depends on where you live. You can drive, with out-of-state tourists flying into Jacksonville and other nearby airports to drive, taking the I-10. People within the state can either drive or take the bus, with the nearest Greyhound stop to Destin being Fort Walton Beach. From there, you can take a taxi ride, which costs about $20.
You can also take the plane and land at Pensacola Airport, about 50 miles to the west. From there, you can arrange transportation to your accommodation.
Wrapping It Up
Who knew that there were so many things to do in Destin? Don't sleep in this vibrant city when choosing your next travel destination!
Don't forget to add fishing to your Destin bucket list! If you're looking for a fishing charter or guide to hire, contact us now. You can get a ton of fishing action and learn many new things about both the sport and Destin with professional charter captains!
Book Your Fishing Charter