Top 10 Tourist Attractions to See in Destin Florida
Destin, Florida is known for its beautiful beaches and myriad of fishing opportunities, but there's more to the city! After all, there are reasons why millions of tourists flock to Destin, and it's not just the fishing. That's thanks to the many tourist attractions to see in Destin, too.
From the best places to eat to fun adventures and education-filled activities, there's something to do for the whole family, group of friends, couples, or solo travelers. Read on to know where to go with these top tourist attractions to see in Destin.
Top 10 Tourist Attractions to See in Destin Florida
Most Destin tourists would visit the beaches, but don't just stay lying around under the sun or fishing in the waters! Explore more of what Destin offers with these tourist attractions: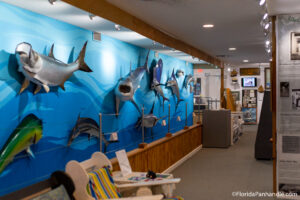 Destin Fishing and History Museum
Did you know that Destin is considered the world's luckiest fishing village? That's because the city has a deep and rich history of fishing, with the area founded by Leonard Destin, a fisherman!
Whether you love fishing or want to delve into Destin's history, the Destin Fishing and History Museum is worth visiting. It's even one of the best attractions in the city, with locals and visitors learning more about this beautiful city. The museum features over 5,500 square feet of exhibit space with 75 mounts of locally caught fish.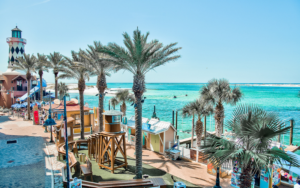 HarborWalk Village
HarborWalk Village is home to the largest charter fishing fleet in the USA, and it's a massive part of history! You can't visit Destin without seeing this attraction, and you'll be impressed when seeing the action in real life.
Head to HarborWalk to stroll along the harbor, watching the boats with fishermen bringing in their catches of the day. If you're interested in being one of those proud anglers, you'll find fishing charters for private hire or open for joiners!
Fishing isn't your main thing? Not to worry, because HarborWalk is home to so many restaurants, shops, and many types of entertainment.
Village of Baytowne Wharf
The Village of Baytowne Wharf is one of the most visited Destin attractions for great reasons! It's along the shores of Choctawhatchee Bay for the lovely views and breeze. Furthermore, you'll also be surrounded by shops, restaurants, entertainment, and wild nightlife!
But what really draws people to this attraction is the many outdoor festivals and special events you can experience. They have fireworks shows every Tuesday during the summer, the Bubbly Baytowne, and many more events to look forward to.
Big Kahuna's Water and Adventure Park
Are you with kids or a group of friends who love the waters? Then you'll love Big Kahuna's Water and Adventure Park! They have lazy rivers, speed slides, and so many more fun slides and rides to choose from for people of all ages.
Henderson Beach State Park
Henderson Beach State Park is one of the more popular beaches people head to, having a relaxed atmosphere and sugar-white sand. It's a mile-long beach with sand made of pure Appalachian quartz, which stays cool under the sun while giving the pristine waters the beautiful emerald coast. This beach is a clean oasis, including nature trails, campsites, and spots for picnicking and grilling.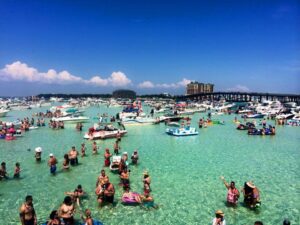 Crab Island
Crab Island is more of an underwater sandbar than an island, with its surrounding clear waters attracting ocean lovers and boaters all over the world! Many people head to Crab Island to relax on their boats or enjoy the clear shallow waters, take photos, or socialize with other people.
While Crab Island is known for the party atmosphere, there are areas where it's fun for families, and there is a lot of room for everyone to fit in! There are even adventure tours complete with inflatable waterslides, food, and drinks to have the time of your life.
Gulfarium Marine Adventure Park
If you didn't get to spot any dolphins in the waters or want to learn more about Florida's marine creatures, then the Gulfarium Marine Adventure Park is worth heading to. There are daily dolphin and sea lion shows for the whole family to enjoy. It's not the biggest aquarium park, but many people still visit and have fun here, especially those with children.
Indian Mound Museum
If you want to learn more about the history of Destin, Florida, then the Indian Mound Museum is another great attraction. It gives a different perspective because other than fishing; you get to learn a lot about the Native Americans who lived in Destin. There are also various artifacts to view and appreciate.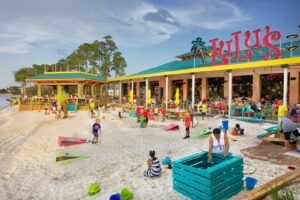 LuLu's Destin
Let's not just focus on where to visit but where to eat! LuLu's Destin is a great restaurant for families because there is a small area for kids. You can also eat on the beach with live music for that tropical ambiance.
Hike Anywhere!
If you're an avid hiker, there are many trails to choose from when in Destin. You can go to the Henderson Beach State Park, John Beasley Beach Park, or James Lee County State Park.
Trails and nice greens don't only surround these areas, but you're most likely near beaches. The moment you're done hiking, you can settle down on the beach with your cold refreshments, watching the sunset and that cold breeze set in.
Wrapping It Up
You won't only find many things to see in Destin, but things to do and eat! We hope this article showed you the places to visit when in the area. But that's not the end, as there are even more to see; this is just a starter list!
Besides planning your trip with the best attractions to see and places to eat in, don't forget to add fishing charters into your things to do in Destin! Contact us now for more information, and let's discuss when you want to schedule your trip.
Book Your Fishing Charter