Destin Beach Resorts You Must Visit
Destin is one of the most popular destinations in Florida, making a name for itself for offering the ultimate beach experiences. Destin is the byword for luxury vacations with pristine beaches that overlook the Gulf of Mexico down to many excellent conservation areas, whether you're out to fish, enjoy the white sand, or bask in nature.
Because of the increasing number of travelers heading to Destin, you can find more elegant and luxurious Destin beach resorts popping up. Which is best to stay in with the many different beach resorts around?
Read on for our list of the four best Destin beach resorts suitable for all kinds of travelers and groups!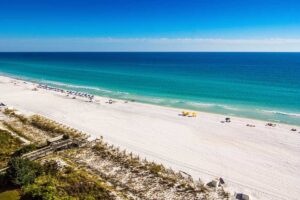 Best Destin Beach Resorts
We've listed down the eight best Destin beach resorts to help you plan your trips and narrow down your options on where to stay: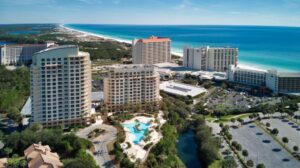 Sandestin Golf and Beach Resort
You most likely won't want to leave once you check in the Sandestin Golf and Beach Resort. And honestly, it's not a bad idea to enjoy your entire stay within the resort!
This hotel is ranked as one of the top resorts around the Florida Panhandle, a 2,400-acre-wide property with everything travelers want and need to have a fantastic time. You can head to the resort's Golf Club course, head to the tennis court, the fitness center, the full-service spa, pools, or the exclusive beachfront! When you head to the beach, you can avail free bike and watercraft rentals like paddleboards or kayaks.
As for the accommodations, expect nothing but the best. You can avail luxury villas, suites, and townhouses. Many accommodations come in 3-4 bedrooms that include a spacious private balcony or patio, along with a fireplace.
If you're up for something more glamorous, you can get a larger standalone unit that has its own home theater and a kid's room with bunk beds.
And don't forget the fact that you can still head out to explore Destin with ease, thanks to the resort's fantastic concierge services. You can request to go parasailing, rent jet skis, and even tour around Destin to the best restaurants and shopping malls.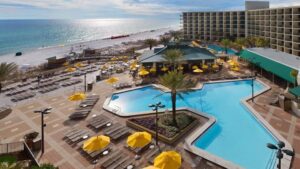 Hilton Sandestin Beach Golf Resort and Spa
South Walton is home to one of the best beaches in Destin, with fine white sand and clear blue waters. It's the reason why people choose to stay in the Hilton Sandestin Beach Golf Resort and Spa.
If Sandestin Golf and Beach Resort is known as one of the top resorts around the Florida Panhandle, Hilton is known as the biggest beachfront luxury resort of the same area.
Resort guests rarely go far from the premises, and for a good reason. Why leave the luxurious accommodations and amenities that the Hilton is known to offer?
All rooms and suites have spacious balconies with breathtaking views of the waterfront, along with other valuable and comfy features like seating areas, work desks, pull-out couches, mini-fridges, and microwaves. You can also rent private cabanas or lay out on a beach chair to enjoy the sun.
There are also other beach activities guests can enjoy, and for free, such as using kayaks, beach volleyball equipment, paddleboards, or setting up a bonfire. If you get hungry, Hilton Sandestin offers in-room and on-site dining options, too.
You can also unwind and take advantage of the Hilton's many other amenities, such as swimming pools, a golf course, and a full-service spa. The resort is also strategically located in numerous nature areas and beaches, so you'll never run out of things to do and places to visit during your stay.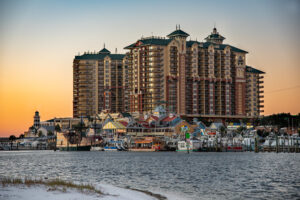 Emerald Grande at HarborWalk Village
The Emerald Grande at HarborWalk Village will give guests everything they need for the ultimate vacation. Guests get free beach access (and chair usage), or they can head over to the resort's full-service spa, swimming pools, hot tubs, or fitness center. Ask the staff for their list of services, and they can assist you with boat or jet ski rentals, along with organizing snorkeling and fishing trips.
What makes Emerald Grande unique is the HarborWalk Village development, a fantastic destination for shopping, dining, and entertainment. You can even enjoy movie nights with the family for free!
The Emerald Grande offers a variety of accommodation options, from 1-4 bedrooms that include spacious balconies and stunning views. You can get larger units with their own hot tubs, kitchens, laundry facilities suitable for up to ten people.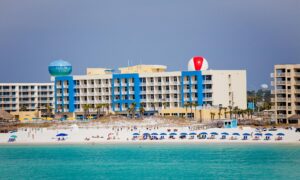 Holiday Inn Resort – Fort Walton Beach
The Holiday Inn Resort in Fort Walton Beach is an excellent choice for couples and families. It's a popular resort as it overlooks the fantastic beaches and the Gulf of Mexico. Plus, it's conveniently located along the best areas to head to when in Fort Walton Beach, such as tourist attractions, shopping malls, restaurants, and entertainment options.
The resort itself has many amenities, such as a fitness center, an entry pool with a lazy river and waterfall, and its own restaurant. Your children will love the games room, offering arcades, programs, and movies. This resort also has a convention space and meeting rooms for events or business conferences, great for work, weddings, birthdays, and the like.
Each room in the resort comes complete with large balconies, microwaves, and mini-fridges for snacking throughout the stay. You can also avail of room service with laundry and dry-cleaning services!
Wrapping It Up
Whether you're on a budget or want luxury, there's always a place for you to stay in Destin. You can find numerous Destin beach resorts with spectacular views, glamorous amenities, and conveniently located around the best restaurants and attractions to make your stay the most memorable one.
And while you're at it, plan your trip to Destin by joining a fishing charter for a fun activity with family, friends, or on your own! Contact us now to find out what fishing charter services we can offer for you.
Book Your Fishing Charter