Hotels & Resorts to Stay in Destin, Florida
You can't plan a trip without figuring out where you'll stay first! When heading towards Destin, Florida, you'll be surprised with the smorgasbord of accommodation options, ranging from luxury beach resorts to AirBnBs, fancy hotels, to affordable backpacker's hostels. There's always something Destin has to offer for every tourist.
But where are the best places to stay in Destin, Florida? We've lined up the top accommodations to choose from so you know where to stay!
The Best Hotels & Resorts in Destin, Florida
If there's one thing to be sure of, it's that most accommodations in Destin are near beaches or right in front of it! Check out these places to stay in Destin, Florida, so you're assured a comfy place to sleep in with whatever you need throughout your trip: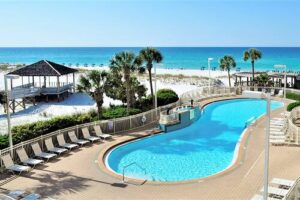 Pelican Beach Resort
The Pelican Beach Resort is situated on the stretch of a stunning beach, a 340-unit, and 19-story condo-style resort. It offers breathtaking views with unbeatable beach access, along with a tiki bar and beach café to enjoy snacks and happy hour as you stroll along the sand, watching the sunset.
Not only can you enjoy the beach! The Destin Florida resort on the beach has even more amenities to offer, such as three adult pools, a shallow kiddie pool, tennis courts, a game room, two spas, and fitness centers. We recommend this place for families wanting a more laid-back vacation by the beach.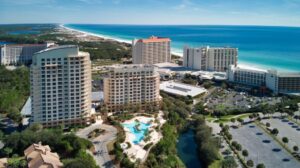 Sandestin Golf and Beach Resort
Sandestin Golf and Beach Resort is technically near Miramar Beach and not Destin, but it still deserves a spot as one of the best places to stay in Destin, Florida! The resort has 1,250 rentals available, ranging from studios to 4-bedroom suites, villas, penthouses, and condos so that you won't run out of options.
It's a 2,400-acre resort with its own destination, with so many different things to do. You can go golfing, shopping, eating in their restaurants, complimentary kayak rentals, and more! Visit the beach, play water sports, and check out their resort-planned events calendar to see what exciting activities will happen that day.
In fact, there are more than 20 restaurants in the resort alone, from the bay view breakfast in Sunset Bay Café down to the Marlin Grill for a couple's dinner.
Furthermore, you can head to the Village of Baytowne Wharf, where there's a marina, boutiques, and lots of entertainment. If you're searching for a place where you've got everything you need for a beach vacation, Sandestin doesn't disappoint. Some people even say you don't need to leave the area!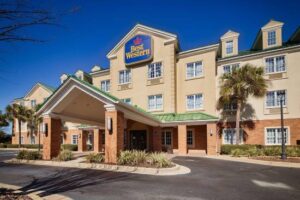 Sugar Sands Inns and Suites
The Sugar Sands Inn and Suites is located in central Destin so that you can enjoy the pristine beaches and all the tourist attractions without the hassle of accessibility. The inn offers various guest rooms and suites, from intimate studios for couples or two-bedroom suites for an entire family.
Furthermore, you can enjoy their complimentary breakfast! While they have no onsite restaurant, it's located in an area where you can find local restaurants nearby to fill whatever cravings they have. As for amenities, Sugar Sands offers a 24/7 fitness facility with outdoor heated pools and a universal gym.
Wyndham Vacation Resorts at Majestic Sun
Wyndham Vacation Resorts is located across Miramar Beach, where you can enjoy the majestic white sands. When you check in here, you have the complete ambiance of a quaint, beachside town paired with the luxurious amenities you dream of.
Wyndham offers condo-style suites, so you've got your own bedrooms and separate living and dining areas, with every room offering ocean views that would stretch for miles!
Since the resort is centrally located in Destin, you can head on out, with a few minutes walk taking you to all the best local restaurants within the area. You can choose among four outdoor swimming pools, an indoor pool, hot tubs, golf courses, and tennis courts within the resort. Or, you can head on out to Miramar Beach and see what Destin has to offer.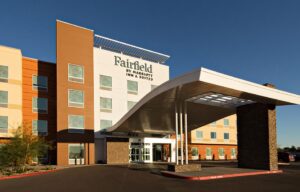 Fairfield Inn and Suites
Fairfield Inn and Suites is across the Henderson Beach State Park, where you'll get access to the Emerald Coast. The accommodation offers guests rooms, suites, and studio rooms offering furnished and private balconies.
Indulge in the view, from the pristine waters to stunning white sands, or head to the beach to enjoy the breeze. Besides that, guests can opt for deep-sea fishing charters and other water activities for a thrill!
There are complimentary hot and continental breakfasts available daily, and you can order from the area's local restaurants nearby to try the best dishes Destin can offer.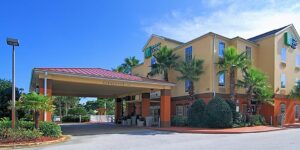 Holiday Inn Express and Suites
Holiday Inn Express and Suites is a popular name because they have numerous branches worldwide! They have one in the Commons Mall Area of Destin, making Holiday Inn Express and accessible accommodation options suitable for beachgoers who love to shop.
You are a minute away from all the shops and just a block and a half away from the Emerald Coast! Guests have the option of getting a guest room or suite, all of which offer views of the Destin Commons. If you don't feel like heading to the beach, you can always go to their onsite pool to relax.
While Holiday Inn Express has no onsite restaurant, it's a stone's throw away from many local Destin restaurants, entertainment, and tourist attractions. You've got the Café Crazies if you want Italian and seafood, or Crab Trap for their oyster and seafood bar.
Wrapping It Up
Whether you're a solo backpacker, on a fishing trip with friends, or having a family getaway, there's always a place for all of you in Destin. Not only will you have the best time around the top tourist attractions, but you can rest well, knowing you've got everything you need in your home during vacation.
Hopefully, we helped narrow down your options on the best places to stay in Destin, Florida! Besides checking out where to stay, figure out what to do and make sure you add in a fishing charter trip to experience the best of the Destin fishing scene!
Book Your Fishing Charter