Best Beaches Close to Destin, Florida
The Emerald Coast is home to many of the most beautiful beaches you've ever seen, which is why people flock to Destin not only for the fishing action but the white sand! In fact, you can find beaches with some of the whitest sand worldwide!
With so many beaches out there, you might have trouble choosing among the dozens of the best beaches near Destin, Florida. We've got you covered with a list of beaches around the area so you can narrow down your options and create an itinerary.
The Best Beaches Near Destin, Florida
From lowkey beaches for peace and quiet to lively ones with tons of activities, there's always something for you within and nearby Destin, Florida. Check any of these beaches out next time you're in the area: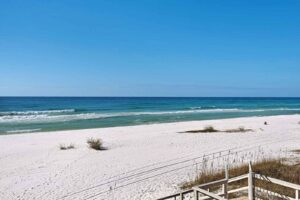 Henderson Beach State Park
When looking for a beach, one of the first things people would recommend is Henderson Beach State Park. Here, you'll get sugar-white sandy beaches and over 6,000 feet of shoreline that border the stunning green waters of the Gulf of Mexico. What's not to love?
This state park offers impressive natural features, from san pines and dune rosemary to scrub oaks. Head to the boardwalk to enjoy a ton of fishing opportunities, or simply swim and sunbathe, waiting to spot dolphins.
Families with children will enjoy this beach because the nature trail features a playground, along with abundant wildlife and a coastal dune ecosystem. Don't worry if you're bringing pets; the place is pet-friendly!
If you're up for a mini-adventure, you can always camp in the state park, with over 60 campsites to do so. All of the campsites are within the secondary dune system, with heated bathhouses, electric and water hookups, and access to the air-conditioned facilities for comfort.
You can also access the beach from the campsite with a different boardwalk with outdoor showers and a playground. Plus, the state park accommodates PWDs with ADA accessibility, offering beach wheelchairs and accessible features.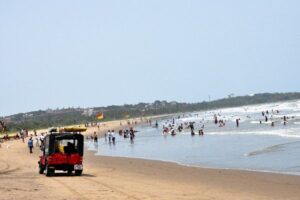 Miramar Beach
Miramar Beach offers everything you need, and it's one of the more popular beaches in Destin everyone enjoys! Some people say that visiting the beach is like taking a trip down memory lane through their childhood beach towns with the classic coastal enclaves.
There is a bit of a crowd here, given the beach's popularity, but not too much to the point you feel overwhelmed. You'll run into many different people, from those reading books and soaking up the sun down to thrill-seekers paragliding on the air or jet-skiing in the waters.
You can even find a ton of shopaholics on the beach because Silver Sands Premium Outlets is right there! There are over 100 retail stores with name-brand designers, tons of restaurants, and a play area for the children to enjoy.
There are also more nearby establishments to have fun in after your trips to the beach, such as the Grand Boulevard, New Vision theaters Boulevard 10, Ovation Club, or the Scenic Highway 98 Trail.
Besides swimming and enjoying the views, you can also golf, play tennis, or fish for certain species. After the entire day of activities, end it with great food and choose among a smorgasbord of dining options, ranging from steak and wine to Italian cuisine. Again, there's everything anyone can ask for in Miramar Beach!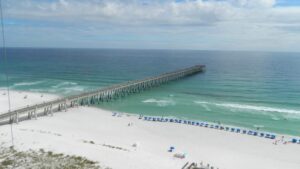 Navarre Beach
We consider Navarre Beach a hidden gem for those who want peace and relaxation, allowing you to enjoy the white sand without much of the crowd. Have a picnic with your family and stroll along their massive pier, where you might spot a dolphin!
Navarre Beach is known as one of the most relaxing beaches in the southeast, where you can enjoy the breathtaking panoramic views of the Gulf of Mexico and the Santa Rosa Sound. It's also known for having the longest pier in the state, stretching 1,545 feet.
You can even rent a bike or scooter to go on a quiet ride along the Gulf Islands National seashore. It's even near Opal Beach and Navarre Beach Pier.
If you want to enjoy the waters, there are three artificial reefs for snorkeling, where you can find a multitude of sea creatures and explore marine life. There are other water activities you can do as well, such as renting a jet ski, going on a clear bottom kayak excursion, or even fishing.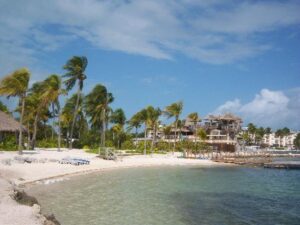 Holiday Isle
The Holiday Isle is within Detin and Destin Harbor, and it's named as such for a good reason! It is a 3-mile long peninsula with pristine sand and clear waters, bordered by gazebos and sidewalks.
Fortunately, there isn't much traffic on this beach, and you can go around the beach via gold card! The beach is located on the western part of the peninsula and is totally Instagrammable for the beach bum. We call it the photographer's dream and boater's haven.
Many people spend their vacations here because it's just walking distance to many of Destin's hotels and resorts. It's very accessible, and you won't have to go far to get to your accommodation in paradise.
From Holiday Isle, you can view the emerald waters of the Gulf of Mexico, as well as the harbor and jetties. We recommend waiting for sunsets and timing your trip to spot a few dolphins.
Wrapping It Up
Destin, Florida is one of the top beach destinations across the USA, which is why you must visit as many of their beaches as possible! Whether you're traveling alone, with your partner, or with family and friends, you will all enjoy the pristine waters and white sand that goes on for miles.
So what are you waiting for? Plan your trip to Destin and visit any of these beaches soon! While you're at it, book a fishing charter and enjoy the waters while catching the big one. No trip to Destin is complete without bringing home fish!
Book Your Fishing Charter