Catching Dolphinfish in Destin, Florida:
A Complete Guide
Dolphinfish is Destin's most sought-after fish. It's enormous, powerful, and flashy. It's also quite delicious. So, if you're in Florida, you may be wondering about the best methods for catching dolphinfish in Destin as well as the best baits and fishing spots.
This article will serve as your guide on dolphinfish fishing in Destin. It'll talk about the most optimal time for dolphinfish fishing, common dolphinfish capturing techniques, best baits to attract dolphinfish, and best dolphinfish fishing spots in Destin's waters.
Catching Dolphinfish in Destin, Florida
Dolphinfish is better known as mahi mahi, which literally translates to "strong strong." The average dolphinfish in Destin is 3 feet long and weighs 10 to 20 pounds, but it can also be as heavy as 30 to 60 pounds.
Dolphinfish boasts great power, entertaining fighting techniques, pretty colors, and delicious meat. As a game fish, you can expect dolphinfish to employ short, powerful runs, deep dives, and high jumps. Likewise, look forward to sudden movements in a different direction than it was originally heading.
At times, dolphinfish even jumps straight into the boat that captured it. If this happens to you, ensure that you brace yourself as it trashes around your boat. 
Bright yellows, greens, and blues cover the dolphinfish's body, and these colors' intensities even change according to the dolphinfish's mood when it's in the ocean. Unfortunately, its vibrant color only shines while it's alive and within the ocean. 
However, dolphinfish tastes great when cooked, so you'll soon forget about feeling sad over the fish losing its color. Tastewise, mahi mahi features a fishy, mild, and sweet flavor paired with a firm texture. 
Best Dolphinfish Fishing Spots in Destin
Dolphinfish are highly active. They love roaming temperate waters as they hunt for food, so the best spot to find dolphinfish in Destin is offshore, near wrecks or debris, under weed beds, or on the outskirts of weed beds. 
Best Baits for Dolphinfish in Florida
When dolphinfish are in active mode, any bait will work best on them. If you're looking for ideas, the best baits for dolphinfish in Florida are ballyhoo, shrimp, sardines, mackerel, false albacore, and other small fish. Alternatively, you can lure them with rubber skirts or feathers.
However, note that dolphinfish are forceful fighting fish, and they tend to wildly jump around once hooked. If you opt for a heavy lure, there's a chance this lure will fly back to you.
Common Techniques for Dolphinfish Fishing
Trolling works best when catching dolphinfish in Destin. If you don't want to troll, your other options are deep sea fishing, spinning, drift fishing, and light tacking.
Dolphinfish Season in Destin, Florida
Dolphinfish high season in Destin, Florida starts in June and ends in September. You'll find plenty of average-sized dolphinfish in August near weeds and wrecks. Meanwhile, low season for dolphinfish fishing in Destin starts in January and ends in April.
Dolphinfish Fishing Regulations in Florida
Florida doesn't have a minimum size limit for dolphinfish caught in Gulf state waters. However, if you caught dolphinfish in Atlantic state waters, it needs to be at least 20 inches long before you can bag in. Both waters have a limit of 10 dolphinfish per person or 60 dolphinfish per boat.
Cooking Destin Dolphinfish
You've had your fun with dolphinfish. You put in plenty of effort into catching it as it trashed around, leapt, and made powerful pulls against you. So, now's the time for the next best thing besides taking pictures: cooking fresh Destin mahi mahi.
Dolphinfish features mild, fishy, and slightly sweet firm white meat, so the best spices to complement it should be equally mild. Examples of these are lemon, garlic, butter, and light marinade.
Check out our article about mahi mahi recipes for more ideas. Besides containing dolphinfish recipes, it also features a quick guide on cleaning mahi mahi as well as filleting it.
Hiring a Fishing Charter for Dolphinfish Fishing
Hiring a fishing charter for dolphinfish fishing ensures a smooth fishing trip. Fishing charters like Destin, Florida Dolphinfish Fishing Charter or Tampa Bay Mahi Mahi Fishing Charters do their best to guarantee a memorable, successful, and safe fishing adventure. 
They'll supply you with everything you'll need for catching dolphin fish in Destin or Tampa Bay. This means you don't have to worry about equipment, accommodations, hiring local fishing guides, and even getting a fishing license. When you hire a fishing charter, you'll just need to prepare yourself and nothing else.
Other Fish to Catch in Destin
Besides dolphinfish, Destin features amberjack, barracuda, cobia, grouper, mackerel, redfish, shark, snapper, trout, and tuna. These aren't the only fish you can find in Destin, but they're the most common ones.
Visit the links to each fish to learn more about them, or head over to our blog for more useful tips when it comes to fishing in Destin.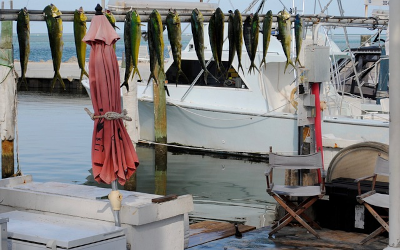 Book Your Fishing Charter