Cooking Fresh Destin Mahi Mahi:
A Guide With Recipes
You've had your fun with dolphinfish. You put in plenty of effort into catching it as it trashed around, leapt, and made powerful pulls against you. So, now's the time for the next best thing besides taking pictures: cooking fresh Destin mahi mahi.
This article will guide you into preparing and cleaning dolphinfish and how to store it. Likewise, you'll learn a few easy mahi mahi recipes here as well as some tips on catching dolphinfish in the first place.
Preparing and Cleaning Mahi Mahi
If you're like most people, you may find it convenient to watch a video tutorial on cleaning mahi mahi instead of reading about it. If so, here's a link to a detailed clip from Captain Vince Russo on YouTube:
When cleaning dolphinfish, keep in mind that it's thin despite its big appearance.
Start by slicing its head off as close to the skull as possible.
Next, gently cut its center open to start filleting it.
Using multiple strokes to fully open the dolphinfish is advisable.
After that, scrape your knife along the sides where the bones are to remove its side bones.
Then, cut the sides of the center bone and pull that bone out.
To skin mahi mahi, you can cut it into pieces or choose to keep it whole.
Putting your knife on the bottom of the meat and then slice through it.
Storing Mahi Mahi
According to Florida Department of Agriculture and Consumer Services, fresh mahi mahi should be stored in your refrigerator's coldest spot at around 32 degrees Celcius for two days. Meanwhile, frozen dolphinfish can be kept in your freezer for up to two months when it's wrapped tightly.
Mahi Mahi Recipes
Dolphinfish is a versatile white fish that tastes well when cooked in quite a lot of ways. This includes baking it, grilling it, frying it, steaming it, and of course, marinating it or adding herbs and spices to it.
Lemon and Garlic Mahi Mahi
Lemon and garlic complement the dolphinfish's mild flavor and removes its fishy taste. It also doesn't overpower the fish itself since they're both light spices. To proceed with this recipe, you need an oven, a pan, butter, lemon, garlic, pepper, chives, salt, olive oil, and mahi mahi fillet.
Create your lemon garlic sauce.
Do this by combining butter, garlic, chives, pepper, salt, and lemon juice.
Set your sauce aside and preheat your oven to 400F.
Ensure your mahi mahi fillet is dry and free from as much moisture as possible.
Fry the fillet in an oven-proof fan at high heat using olive oil.
Heat each side for at least 3 minutes.
Place the dolphinfish inside the oven and bake for 5 minutes.
Heat your lemon garlic sauce while baking the fish.
Pour the sauce on the baked fish and serve.
Simple Grilled Mahi Mahi
Like most fish cut into steaks, mahi mahi makes a tasty grilled meal. Grilling brings out the dolphinfish's flavor and best of all, it's easy to do. To grill mahi mahi, you need olive oil, garlic, salt, pepper, and paprika. 
Marinate your dolphinfish fillet or rub the herbs on it before cooking it.
Set your grill on fire.
Apply olive oil to the fillet.
Place the mahi mahi on the grill and let it heat for a few minutes.
Heating time depends on how thick your fillet slices are.
Flip the fish over and wait for a few minutes, and then you're done.
Other Interesting Mahi Mahi Recipes to Try
To make cooking easier for you, we'll link video tutorials of dolphinfish recipes here. These are some of the tastiest meals you can make out of mahi mahi, so be sure to try as much of them as you can. You might discover new favorites!
Blackened Fried Mahi Mahi
If you like spiciness, juiciness, crispiness, and a little bitterness in your meals, blackened fried dolphinfish is perfect for you. Check out Yummy Treat's YouTube clip:
Lemon-Sauteed Dolphinfish
Meanwhile, if you prefer soft and flavorful meals, try sauteeing mahi mahi in lemon. This recipe is similar to the lemon garlic recipe mentioned earlier, except it doesn't need an oven. Watch Kitchen Dads cook it here:
Butter Pan-Seared Mahi Mahi
Alternatively, if you like crispy meals but not to the point where they're a bit burnt, check out Kianna Marie's butter pan-seared mahi mahi recipe:
More Mahi Mahi Recipes
Lastly, watch this awe-inspiring video from Travel Thirsty. It features plenty of mahi mahi recipes done in a street food place in Japan, so you're guaranteed to garner plenty of ideas from viewing it:
Catching Dolphinfish in Destin
If you haven't caught mahi mahi in Florida yet and had simply been looking around, check out our guide to everything you need to know on catching dolphinfish in Destin. Similarly, if you're thinking of fishing for mahi mahi, try hiring a fishing charter to ensure your trip goes smoothly.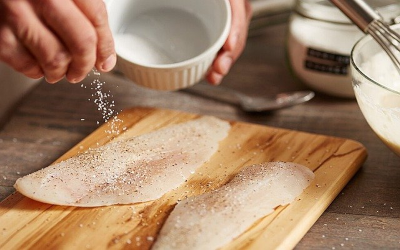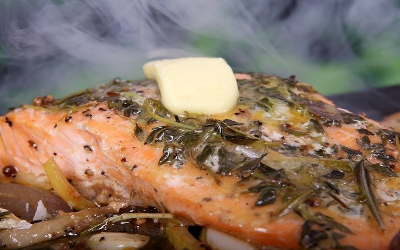 Book Your Fishing Charter