How to Target Speckled Trout in and Around Destin, Florida
Thousands of people flock to Destin, Florida yearly for the fishing action, sandy beaches, and many tourist attractions. Many anglers head here to target specific fish, with many of them trying to get their hands on speckled trout, a species known for their aggressive nature. It's the fight this fish gives that attracts anglers worldwide!
If you're one of the many anglers looking for speckled trout, also known as spotted seatrout, you need luck, skills, and proper knowledge on how to catch one. Read on for helpful tips on how to target speckled trout in Destin, Florida.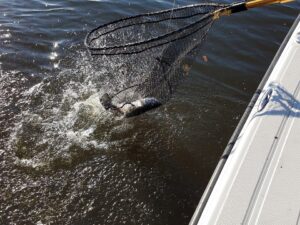 How to Target Speckled Trout in Destin, Florida
The speckled trout has a muscular build with a similar size and shape compared to the brown and rainbow trout. They are also known for their distinct color patterns with dark black backs and shoulders, along with a silver body that dons a purple hue and signature black dots all around.
In Destin, inshore speckled trout are about 10-32 inches long. They are commonly found in shallow water grass flats in Destin Inshore Bay, where they spawn. They swim in schools and typically show up in January, staying around shallow waters throughout the year.
Speckled trout begin breeding in springtime and are easy to catch, though expect a bit of a fight! To target and catch this fish successfully, follow these tips: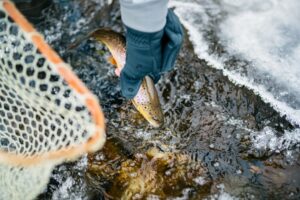 Assess the Area
This is the most important tip! You can't target speckled trout if you don't know where to find them or know how to assess the area to locate trout. You must know how to scout an area to identify whether or not it's good feeding ground speckled trout would head to.
When finding feeding areas, simply focus on three things:
Structure – look for areas with underwater seagrass as trout would stay around seagrass beds, which is where they reproduce and feed.
Bait – Food is a fish; primary concern so you have to look at the kind of bait there is in where you plan to fish. If you don't see any kind of bait rippling on the surface of underwater, then you may want to look for other areas where there's more food. When you do see bait, note the size and shape, choosing a lure resembling that to attract speckled trout.
Current – Speckled trout would stay still and attack on unsuspecting prey to feed. Proper current can help trout get even more food without exerting too much effort, as it would allow them to hide in seagrass as they wait for bait. Look into areas near passes or inlets with clean running water during tidal fluctuations.
You can use online maps, satellite imaged, and ask the locals on the best fishing areas for speckled trout!
There are also other things to consider when looking for speckled trout, such as:
Water temperatures of 70 degrees F would prompt speckled trout to feed, so it's best to target fishing on days when waters reach such temperatures. Because of that, you'll most likely find speckled trout on dark muddy bottom bayous, which would hold warmth from the sun. Besides that, they will also head towards shallow sandy grass flats.
We recommend fishing for speckled trout later in the day, specifically early to mid-afternoon during the hottest times of the day.
As mentioned, you need to focus on bait. When checking the fishing areas, check if there are small crabs, shrimp, or minnows in the area. Speckled trout will also want small menhaden, or Pogies. You can use those baits as your lures when fishing for more chances of a bite.
There are specific areas along Destin where you can fish for trout, such as the East Pass Jetties, Mid-Bay Bridge, Hogtown Bayou, and Choctawhatchee River.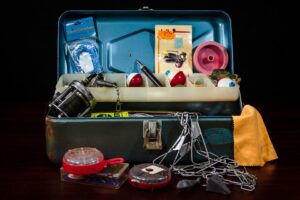 What Gear to Use?
You don't need to spend thousands of dollars on fishing gear! While trout is aggressive, they aren't the strongest fighters, nor will their sharp teeth be enough to break leaders. One won't require heavy tackle, and there are fishermen who say that they can catch more fish using a 10-lb braid using a 20-lb leader rather than anything heavier.
For speckled trout, we recommend using the following gear:
Around 7 to 7'6 foot medium to medium-heavy fishing rods
A small spinning reel, about 2000-2500 series. You can also opt for a 3000-4000 size spinning reel
8-10-lb braided line. When using a 3000-4000 size spinning reel, use a 10-15-lb braid
20-lb fluorocarbon leader. You may also use anything between 15-25-lb fluorocarbon
Soft plastic bait that's rigged on jig heads. There are other lures you can us as well, such as topwater lures, spooks, skitterwalks, and the like.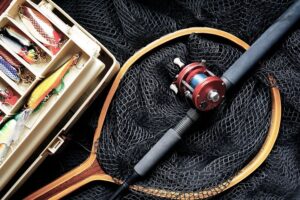 Use Your Gear Properly
Even if you have the best fishing gear, you can't catch speckled trout if you don't know how to use it. Make sure that you're aware of how to use your gear properly. If you're still new to it, a fishing charter in Destin can help you out!
Fishing charters in Destin don't only know where to go to target speckled trout. They can also provide the appropriate fishing gear for you and teach you how to use it. That way, you have everything prepared for your fishing trip other than food and a set of clothes.
You can get a head start on learning to use fishing gear by watching online tutorials and asking loved ones who love fishing for advice. Make sure you're also aware of the fishing laws and restrictions in Florida.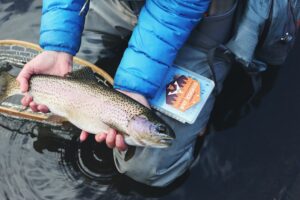 Wrapping It Up
Speckled trout is fairly easy to target and catch when in Destin, Florida, as long as you're equipped with the proper tools and knowledge. Reputable fishing charters in Destin can assist you to increase the chances of finding speckled trout, so why not contact us for our packages now? We'll see what we can do to help you out.
Hopefully, you found these tips on how to target speckled trout in Destin helpful. Keep these tips in mind as you prepare for your fishing trip. Good luck!
Book Your Fishing Charter