Best Spots Snorkeling in Destin, Florida
When you're in Destin, Florida, one of the things you must add to your bucket list or itinerary is to go snorkeling! This is the prime destination for snorkeling, fishing, and other water activities, and for tons of reasons. Here, you get to see all the gorgeous reefs, witness the wildlife, and enjoy it all with your family.
But how can you go snorkeling in Destin, Florida? Read on for a quick and informative guide!
Snorkeling in Destin, Florida
Destin isn't only known for its fun fishing trips and white sand. You can do a variety of water activities here, from snorkeling to scuba diving. The town supports much marine life you and your family can marvel about up close and personal!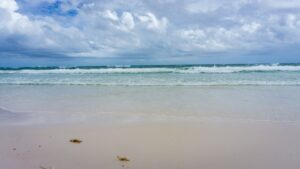 While you won't find a lot of coral reefs by the shores, you'll find sandy flats and seagrass beds, which have their unique beauty. Plus, Destin is home to numerous snorkeling hotspots where you get a chance to see marine life. After all, it's not called the 'World's Luckiest Fishing Village' for nothing.
When snorkeling, you'll have superior visibility when snorkeling during the high tide, with visibility ranging between 20-80 feet. It's best to go snorkeling in protected jetties or go deeper via boat, with local guides helping you.
Here are the best snorkeling hotspots you can go to when in Destin:
East Pass and Destin Jetties
One of the most popular hotspots is the Destin Jetties, located from the gates or East Pass. The Destin Jetties are manmade reefs where you can find a ton of fish. Here, you have opportunities to see everything, such as pufferfish, redfish, wrasse, tang, and even barracuda, octopus, and hermit crabs!
You can reach the jetties via boat or from the shore, with more experienced snorkelers able to go by themselves. If not, many nearby businesses and guides offer snorkel tours for beginners!
We highly recommend booking a tour boat operator and going farther out, where you can experience the most transparent waters. It's also where the best visibility is. You might even see a few dolphins.
This area is located at the Destin Bridge and near HarborWalk Village, so you have everything you need and want in one destination. Even the locals praise the Destin Jetties for being one of the best snorkeling spots. Once you're done snorkeling, head back to the village to grab a bite to eat or go shopping!
Norriego Point
Another good snorkeling hotspot to visit is the Norriego Point, located between the East Pass and Destin Harbor. It's surrounded by dunes, a small peninsula, or white sands situated behind the Gulf of Mexico.
The Norriego Point was named after a Spanish family and is now completely protected, with a water taxi stop to make the area accessible.
You can find protected jetties on the east, with calm waters perfect for snorkeling and swimming. Because the area is protected, there are no fishermen and boats allowed in the water.
If you want to go here, head to the Norriego Point public beach, the entrance is located in the west of Gulf Shore Drive. Besides marine life, you can find various bird species in the area!
Henderson Beach State Park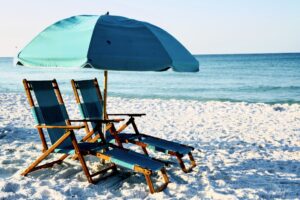 The Henderson Beach State Park offers fantastic views even before heading into the water. The park features white dunes that stand up to 30 feet high, with an entire mile of uncrowded and natural shoreline, where you can explore the clear waters.
Plus, this is a nesting area for loggerhead sea turtles! You may find a few of them underwater.
Snorkel Reefs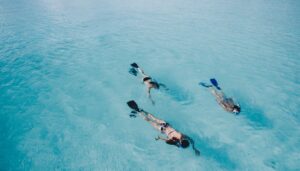 Snorkel Reefs are significant areas to snorkel in. You get to see a ton of marine life underwater and get a close look at all the majestic underwater creatures, from schools of fish to coral reefs.
Currently, there are four new reefs the South Walton Artificial Reef Association created. The newest one is the Dolphin Snorkel Reef, with the other three along the Scenic Highway 30-A.
Besides that, here are the other snorkel reefs:
Cobia Snorkel Reef – Intel Beach
Turtle Snorkel Reef – Grayton Beach State Park
Seahorse Snorkel Reef – Topsail Hill Preserve State Park
The reefs are about 200-300 yards from the shore, so you can see a ton of amazing things as you snorkel!
Frequently Asked Questions
Here are a few more things to learn as you go snorkeling in Destin, Florida: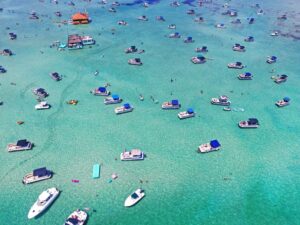 Are there other alternatives to snorkeling?
Yes, there is something known as snuba, which is a cross between snorkeling and scuba diving. It's similar to snorkeling, but you don't need to stay near the surface to breathe. You'll be given an air hose so you can swim underwater for up to 30 minutes and stay as deep as 20 feet!
How can I get a snorkeling trip?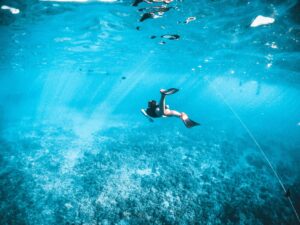 You can find snorkeling tours online, just as you can with fishing charters. When you are by snorkeling hotspots, you can find local guides and companies offering tours.
What should I bring to snorkeling tours?
We recommend that you bring the following to your snorkeling tour:
Bathing suit
Hats or visors
Sunglasses
Sunscreen
Towels
Extra clothes
Water shoes
Waterproof bag for your phones or wallets
Water bottles and food
Cooler
Camera
Alcohol may be allowed, though it depends on the company you're booking a tour from. Ask in advance, so you know if it is permitted or not, or if there are certain conditions to follow.
Wrapping It Up
The Emerald Coast is calling you and your family! Don't just spend your days lazing around the white sandy beaches; go underwater and explore what you can't see on land. Get a taste of that underwater action everyone's talking about and go snorkeling!
Hopefully, this guide on snorkeling in Destin, Florida, helped you out. Besides this fun water activity, consider going fishing with your loved ones as well. We've got fishing charter services you can avail of, so contact us now.
Book Your Fishing Charter