Destin Florida Resorts with Access to the Beach
Destin, Florida is home to some of the most amazing beaches in the United States, deserving its popularity among locals and tourists alike. Its white sand and teal to emerald green waters are reason enough to head to Destin! You get to find spectacular views of where the Florida Panhandle meets the Gulf of Mexico, hence the name, 'Emerald Coast.'
So if you're heading to Destin and still have no place to stay yet, don't worry! We've got you covered with the best Destin Florida resorts on the beach so you won't have to go far.
Best Destin Beach Resorts
Destin is located in northwest Florida, filled with a lot of beaches and golf courses, along with fishing charters and state parks to enjoy! Of course, you'll want a comfy and luxurious place to stay after whole days of exploring Destin. Here are the best beach resorts so you can get a taste of the beach as you rest.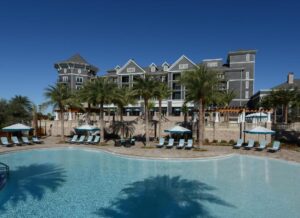 The Henderson
The Henderson, a Salamander Beach & Spa Resort is one of the most-favored hotels when in Destin. It offers 170 guest rooms, all of which have sitting areas, minibars, drinks, flat-screen TVs, even a furnish balcony! You can opt for. An ocean-facing room, where you can have a stunning view of the Gulf of Mexico.
While it isn't sitting directly on a beach, it's just across the road to Henderson Beach State Park. From here, you can enjoy thousands of feet of natural coastline.
Other than the spacious accommodation and beach accessibility, the Henderson offers 5 dining options, one of which being a beach grill and bar. You and the kids can enjoy the big pool (which has a lazy river), or you can head to the spa, or even enroll in fitness classes.
Basically, you've got everything you need from The Henderson for the ultimate beach vacation in Destin.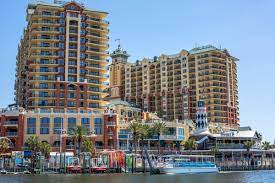 Emerald Grande
While beaches are the main attractions in Destin, you will definitely want to be in the center of everything. The Emerald Grande at HarborWalk Village offers ultimate accessibility and luxury.
Sure, it's a bit farther from the beaches, but you have the terrific scenes of the turquoise Destin Harbor straight from your room. Don't worry, all the rooms in the hotel have spacious balconies, each of them with a beautiful view.
You can choose among 4 room categories to accommodate groups of families, friends, or even couples and solo backpackers. All of the rooms are condo-style and offer full kitchens, which is perfect for those staying for the long-term.
The hotel offers everything you need, from full-service spas, fitness centers, down to heated pools that overlook the amazing Gulf of Mexico. You can also find various restaurants in the hotel, or just walk down HarborWalk Village to explore the food and entertainment.
Another huge plus: The Emerald Grande has FREE boat shuttles from the harbor to any nearby beaches!
 
Silver Shells Beach Resort & Spa
If your main focus is luxury when looking for Destin Florida resorts on the beach, then you can't go wrong with the Silver Shells Beach Resort & Spa. You've got 6 Gulf-front buildings sitting on 31 acres of land, with a thousand feet of beachfront to walk around in.
You can opt for various accommodation styles, whether you want two-bedroom condos or the glamorous penthouse. Furthermore, the amenities are just as luxurious, from beachfront dining, beach rental services, fitness centers, spas, down to s steak house.
Silver Shells is near Destin Harbor and Henderson Beach State Park, but you won't need to go far. Surely, the 7,500 square foot Gulf-front lagoon pool will keep you in the hotel for whole days on end. This one-of-a-kind lagoon pool has whirlpools, waterfalls, and even kiddie pools for everyone to have fun in. But of course, we highly recommend heading out to experience the sandy beaches too, which is just a few steps away!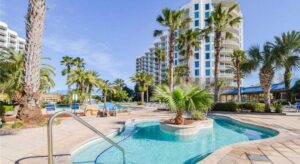 The Palms of Destin Resort and Conference Center
This is a condo hotel and conference center beside Henderson Beach State Park and about a mile away from the Indian Bayou Golf Club. Since it's in the heart of central Destin, you can enjoy accessibility and convenience optimum for businessmen or big groups.
The hotel isn't on the beach directly, but it has a free shuttle going to Calhoun Beach, which is a mere 5-minute drive away. Or, you can just head to the lagoon pool, offering bridges and waterfalls.
You can opt for 1, 2, and 3-bedroom condo rooms or 2-bedroom villas. All rooms have everything you need, from balconies to full kitchens. Some of the rooms have spectacular Gulf views, so you better call ahead to reserve a good room!
As for food, you can choose to go to their onsite café, bar, or their very own The Palms Bistro.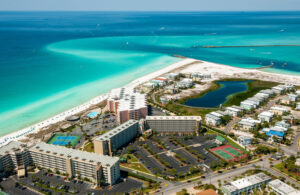 The Islander
If you want something more family-friendly and the condo-style for long-term stays, you'll like The Islander. This is a 7-story condo built in the 80s and underwent a major renovation in 2010. Now, all of the condo units have 2 bedrooms and baths with mind-blowing views of the Destin Pass and Gulf of Mexico.
When you go down, you can enjoy their private beach, hot tubs, and pools, along with the vast outdoor facilities that include a basketball court, pickleball courts, tennis courts, and even shuffle board.
The Islander is a cool spot for your next vacation, but it can also be your next home base if you plan to stay for even longer.

Wrapping It Up
Whether you're a big family, small group of friends, a couple, or traveling alone, there's always a place for you in Destin. Check out any of these Destin Florida resorts on the beach and plan out your trip today!
Don't forget to include fishing charters into your itinerary as well to experience the ultimate Destin vacation. Contact us now and see what we can offer for your trip!
Book Your Fishing Charter